Posted On: Mon 12 Aug 2019 By TCR NEWS | GUARDIAN NG
Sultan of Sokoto, Alhaji Sa'ad Abubakar III, yesterday charged the Federal Government to be "decisive in dealing with those who are bent on heating up the polity with hate speeches, no matter how highly placed they may be."
Abubakar, who is also the President-General of the Nigerian Supreme Council For Islamic Affairs (NSCIA), made the disclosure in a statement to mark the celebration of Eid-el-Kabir.
He also expressed worry that insecurity has degenerated rapidly from a state of benign manageability to intractable malignancy, saying: "This situation, which seems to preoccupy the attention of the Federal Government at the expense of other issues in the socio-political and economic spectra, appears increasingly problematic."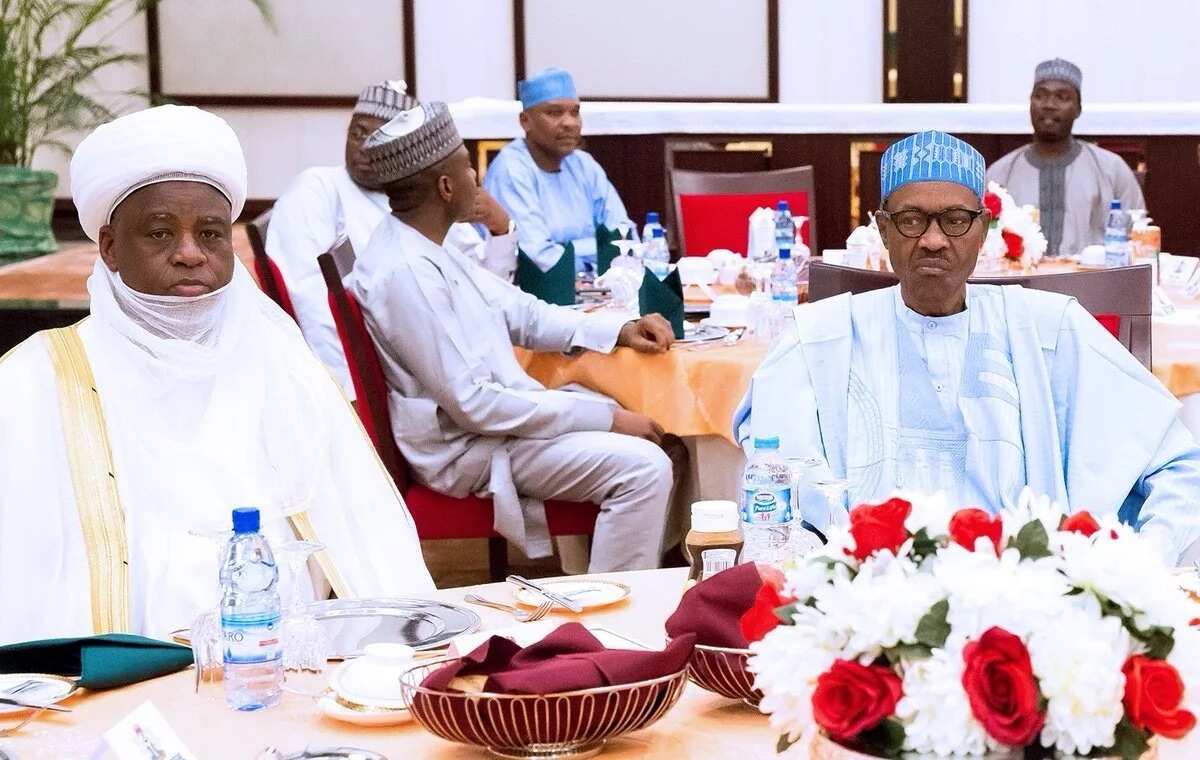 Sultan of Sokoto and Buhari
He added: "Today is a day of sacrifice. We must seek divine intervention in all our activities. I appeal to all of you to pray for the peace and unity of the country. We should pray and support our leaders to succeed in the effort of sustaining the peace and progress of the nation. We have seen a lot of commitments and dedication to the fight against insecurity. With our support and fervent prayers, we will surely succeed."
Other Muslim groups also re-echoed concerns about the nation. While wishing faithful in Nigeria and those performing hajj in Makkah a prosperous Eid-ul-Adha, The Muslim Congress (TMC) President Luqman AbdRaheem appealed to government to curb insecurity, militancy, poverty, rising unemployment, and hopelessness.
"Similarly, we urge all Nigerians irrespective of their ethnic and religious affiliations to live together as brothers. Let us demonstrate transparent honesty, prudence, and faithfulness as leaders and followers in moving the nation forward. The country is indeed unhealthy and requires our fervent prayers," he said.
Lagos State Muslim Students Society of Nigeria (MSSN) President Saheed Asafa also urged Muslims to intensify prayers for the development of the country. According to him, "While celebrating, we must remember that many Nigerians are still in kidnappers' dens and many families live between hope and fear, some lacking food to eat. We must be magnanimous in celebration and remember the needy. We should increase our prayers for Nigeria for things not to get worse in the country."
Muslim Rights Concern (MURIC) Director Ishaq Akintola noted: "There is hope on the horizon. Nigeria is on the path of greatness. The panacea to our challenges is not far-fetched. First, we must change our mindset and believe that we can be great again. We must determine to rebuild our country, to love our neighbours and to shelve corruption.
"This is part of the re-engineering of the Nigerian mindset. Initiate an intention to start the new Nigeria. Let the change begin with you. Eliminate that negative belief that everyone is corrupt and nothing can work in your country. Drop that negative idea that it is impossible for us to live together. Prayer is the sword of those who have faith in God. We must follow our intention to change Nigeria with prayer and start working towards it. Prayer is good but we must work to follow it up."
In a message by his media adviser, Ike Abonyi, the national chairman of the Peoples Democratic Party (PDP), Prince Uche Secondus, asked Nigerian Muslims to use the Sallah period to present Nigeria's precarious situation to Allah for prompt intervention.
Secondus noted that justice and fairness, the kind only God gives, could rescue the country from final damnation. According to him, the blood of thousands of innocent souls being wasted daily is enough reason to make a desperate appeal for divine help.
He said: "We know as a fact that this is not what Nigerians desire from democracy especially given what happened on February 23, 2019. But a period like this solemn time provides the people an opportunity to ask Allah to allow the will of the people to prevail.
"It is a statement of fact that this is one of the worst times in our history as a country where lives are valueless and freedom is denied to persons holding opposite views in a national discourse by an obviously intolerant political leadership.
"I charge you not to allow the challenges of now to make you lose your dignity and modesty as a people and miss the essence and meaning of Eid-el-Kabir festivity and the divine succour it brings, in assuring us that there is always a light at the end of every tunnel."
Also, the national leader of the ruling All Progressives Congress (APC), Bola Tinubu, admonished Nigerians to overcome divisive tendencies and unite for a stronger nation.
Minister-designate Babatunde Fashola and other leaders including Speaker of the Lagos State House of Assembly Mudasiru Obasa also reiterated the call in their messages to Nigerians.
They spoke to reporters after the Eid-el-Kabir prayers held at Dodan Barracks in Ikoyi, Lagos.
Tinubu said Nigerians should learn to embrace peace, demonstrate love, avoid hate and be tolerant. He said: "Differentiation and stigmatisation are not going to help the country at this stage of our life as a nation. What today teaches is all about sacrifices that we all must make, to really have our prayers answered. No one was able to dictate to whom he would be born to, how you would be born, and where he would be born. We are proud Nigerians and that is what should be paramount.
"Let us be proud of our country and dedicate ourselves to the growth and prosperity of our country. Yes, if we say things are hard, it means we will work harder to make it better, not to destroy what our founding fathers have done and put together in the spirit of one nation and one destiny."
Fashola described the season as the time to come together as a people and make sacrifices for the development of the country. "This is the time to sacrifice, to get behind our leaders and come together among ourselves to build our country and make it what we expect it to be."
The deputy governor of Lagos State, Obafemi Hamzat, reiterated the message of the state's chief imam, Sheikh Sulaiman Abou Nolla, on ending insecurity. "The imam has said it clearly: it is enough of all these killings. It is enough of these kidnappings and it is enough of all the bad things. So, if anybody says Allah Akbar and you kill somebody, it's either you are insane or you don't understand Islam. Islam is a religion of peace.
"So, the message to all Lagosians and to Nigerians is that we must live peacefully. All the religions – Christianity, Islam preach peace. We should live in a peaceful environment."
Obasa pleaded with Nigerians to make sacrifices for the nation to move forward. According to him, "We must love one another and help each other. I believe if we live in tolerance, definitely, we will be able to build a nation of our own."