When Saudi women marry foreigners
When Saudi women marry foreigners
Perhaps the man did not know that the very short clip he posted on Twitter - supposedly showing part of the wedding celebrations - would spark a nationwide social media debate covering the kingdom's social politics, racism and women's rights.
The clip - whose provenance we could not verify - shows men dancing in a circle, with a traditional Syrian chant heard in the background, apparently marking the union of the Saudi woman and her Syrian beau, supposedly in the Saudi city of Medina. More than 50,000 people have used the hashtag "a woman from the Harb tribe marrying a Syrian man in Medina". The tribe to which the bride belongs, as well as the nationality of the groom were the major points of contention in the virtual debate.
Some comments on social media were jubilant at the thought of an inter-country marriage: "What happened tonight in Medina is a good example of the Quran verse 'Verily the most honoured of you in the sight of God is (he who is) the most righteous of you,'" was one message.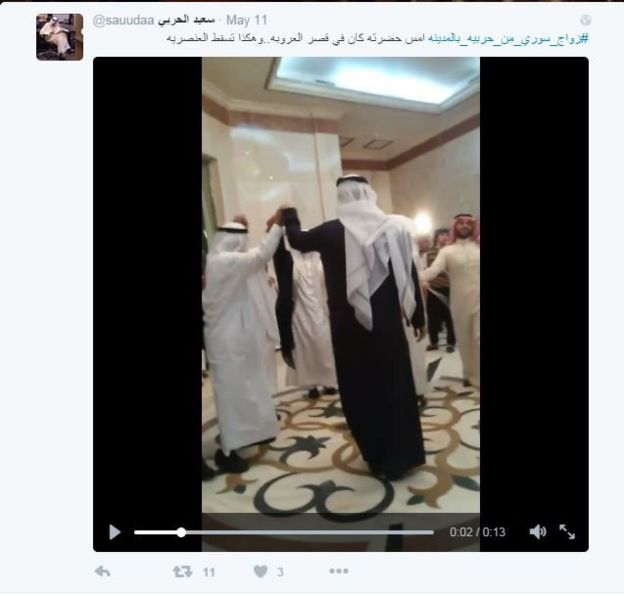 Others discussed the consequences of marrying 'foreigners'.
"It is her right to marry whom she chooses, but she can't come later and shout that her husband and children are foreigners and demand that the nationality is given to them. Think well before you take such a decision," wrote one tweeter.
We know very few details about the couple in question, although the video seems to indicate that they had the blessing of those in attendance.
Many congratulated the couple, expressing their support for the marriage as a means of combating racism and promoting equality between Saudi men and women: "The most important thing is that he is a Muslim. Say 'no' to racism. The law should be equal to both man and woman…"
Others pointed to a discrepancy in attitudes towards the different sexes: "It is fine for a Saudi man to get married to a foreign woman, while the opposite case is forbidden. You wouldn't make a fuss if a Saudi man was the one marrying a foreigner"
There are examples of interracial relationships in the Koran. And one tweeter gave examples from the time of Prophet Mohammad to show that intermarriage was accepted.
"Bilal bin-Rabah al-Habashi [a companion of the Prophet, who came from the country that is now known as Ethiopia] married Hala, from the Quraysh tribe [one of the most respected Arab tribes which controlled Mecca]. Islam took away these ignorant and racist traditions and you are resurrecting them," wrote a Saudi architecture student.
Many Saudis were angry that the hashtag was even created to discuss such a personal event. However, many others brought to the fore notions of the superiority of some groups over others. Here are a few of the comments we saw.
"Marriage is a whole life; so it is a big mistake for a Saudi girl to marry a foreigner, a 'Syrian' specifically."
"I wish that she becomes the last Saudi woman who marries a foreigner."
Another Twitter user wrote: "This is not racism. If you have an authentic and noble steed, would you throw her onto a mule? [No], you would maintain her lineage."
Saudi laws do not prohibit men and women from marrying outside their nationality, but those who choose to do so have to adhere to certain regulations. Similarly, the process of seeking official approval is often lengthy and drawn out.
Dr Hatoon al-Fasi, a Saudi academic, told BBC Trending that one of her female relatives married a non-Saudi and the process took around 18 months as the groom went through "a long check list."
She also added that if the couple have children they will not have Saudi citizenship. Dr Al-Fasi said: "Only sons have the right to apply for the Saudi citizenship when they turn 18". However, the children of Saudi women and foreign fathers get similar treatment to Saudi children in education and other sectors in the country, she added. However every year thousands of Saudi women marry non-Saudis from both Arab and non-Arab origins.
Dr Al-Fasi added that tribal divides within the country were an "increasing phenomena in the Saudi kingdom". She said that although the Justice Ministry dropped "incompatibility in lineage" as a legitimate reason for divorce, judges are still divorcing Saudi women from their non-Saudi husbands, in absentia, on these grounds.
Due to a system of guardianship of women in Saudi Arabia, relatives, including uncles, are able to get a woman divorced on the grounds that they have have married "outside their lineage". Last April, a woman claimed in a video that she was forcibly divorced from her Saudi husband on that basis. Although the Saudi authorities later denied this, saying that incompatibility in lineage is not enough reason to grant a divorce.
BBC